We appreciate the partnership of many faith based organizations, professional associations, schools, clubs and community organizations who generously provide donations, conduct member collections, support our holiday program and volunteer in our programs all year.  We have a variety of fun opportunities to serve with us. You can become part of our regular scheduled shifts, help at a one time volunteer event or provide essentials for our low income neighbors by running drives. Any children must be 12 years old to attend as a volunteer with us and must be accompanied by a parent or legal guardian at all times. In some locations, only adults can volunteer.
Examples of how you can help us include the following:
Cook a BBQ or meal and serve our clients at our 100 bed homeless shelter in South San Francisco, Safe Harbor. A group of 5-15 volunteers (all 18 years or older) will provide and cook the food on our grill, serve our residents and then and organize some entertainment. Weekend afternoons only.
All service is between Monday and Friday, 9am-4pm. Shifts last 3 hours. Examples of how you could help include:
Food Preparation in our kitchen – Help us prepare the 650+ hot meals we serve daily.
Pantry service – Pack bags and distribute groceries to our clients.
Kids Closet – Help sort clothes and stock our free children's clothing store.
We need a smaller team of between 2 – 5 people to help us in our Food Program with Mobile Meal deliveries, Dining Room or Safe Harbor Shelter meal service, or at an off site Food Distribution. Shift times and locations are varied but are all Monday through Friday and you can be scheduled on a fixed weekly, bi-weekly, monthly or quarterly day. This type of role allows us to have the security of knowing your organization will be there to serve, and you the flexibility to share the opportunity among your members so everyone can participate at some point.
Samaritan House needs donations for our clients and families all through the year. It's easy to set up and we can provide helpful instructions and collateral materials to assist you. Visit our Donation Drives pages to learn more and get started.
During the Holiday season we have opportunities for volunteers to help in November and December at our larger Food Distributions, at our Holiday Toy Shop in December. We also love support with Drives for seasonal needs – from new Halloween Costumes, Turkeys, Chickens and Hams and new Toys and Coats for kids. Visit our Holiday Program Pages to learn more.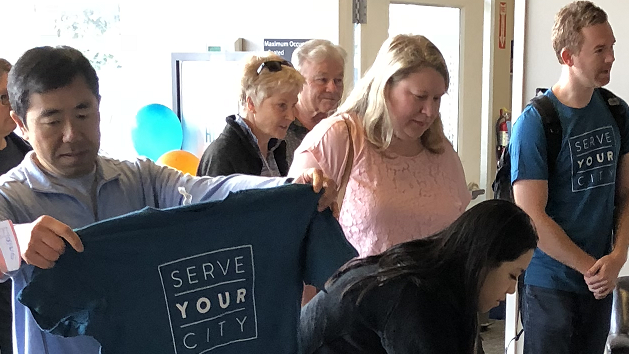 COMMUNITY & FAITH GROUPS
Community & Faith Groups
Start the process to become a Faith or Community Group partner by completing this short application form to tell us about you and how you can help.
Faith & Community Group Form