Samaritan House is the largest truck-to-table food distributor in San Mateo County. In FY 2022-2023, we prepared and distributed over 4.8 million hot meals and bags of groceries for our neighbors facing food insecurity. Our kitchen, pantry, and dining services fill a gap between the need for food and the ability to obtain the meals and groceries needed to thrive. We've adapted our food program during COVID-19 to ensure the safety of all while providing hot, nutritious meals and bags of food to clients daily.
The Samaritan House Kitchen feeds over 3,000 hungry people each month. A significant portion are children from low-income families.
Samaritan House
Meals are supplied during the week through the Dining Room in the City of San Mateo, our Pantry, and our Mobile Meals program that delivers to social service programs, senior and community centers, and to those who are homebound. We also supply other agency dining rooms across the county who do not have the ability to cook every day. On weekends, the Kitchen staff, with support from a multitude of community service organizations, make lunches available for pick-up. In the summer, we expand our reach and supply meals for the Summer Kids Lunch program.
Food Pantry

Samaritan House's Drive-Thru Pantry supplies food boxes full of groceries for low-income families who struggle to buy groceries. This option allows families to prepare fresh meals together at home. Bread is a basic food staple that Samaritan House provides Monday through Friday to all who are in need. A voucher system is now used to distribute bread from our Pantry. Bread Vouchers are obtained at Client Services with no application process and bread is available to anyone who is in need.
A food voucher is acquired in the Client Services Department on our 2nd floor and does require an application process. Call to inquire about paperwork needed to apply. Larger quantities can be made available for pick-up by prior arrangement in order to supply other community organizations throughout San Mateo County.
Dining Room

Samaritan House offers a take-out dinner (a hot meal and dessert) on weeknights, to any single adult or family that needs it. All are encouraged to take advantage of dining in a restaurant-style, community space in downtown San Mateo.
After School Snack Program

Throughout the county, students attending after school programs also benefit from food and snacks provided by Samaritan House. This healthy snack with juice fuels students focused on homework and after school activities, thereby bridging the hunger gap until dinnertime.
Summer Lunch Program

The King Café Summer Lunch Program provides food in the summer months to students who receive subsidized lunches during the school year. Teenage volunteers help serve meals from our Kitchen to children taking part in San Mateo's King Center summer recreational programs, created to keep kids off the streets.
Mobile Meals
Recognizing that only able-bodied individuals were able to attend dinner at our Dining Hall, Samaritan House created a volunteer-based Mobile Meals program to deliver warm meals to the elderly and disabled. Please contact our Client Services department if you need Mobile Meal assistance.
Food Pharmacy
In an innovative collaboration with our partners at Second Harvest Food Bank, Samaritan House established Food Pharmacies at our two Free Healthcare Clinics in San Mateo and Redwood City. Our volunteer physicians write "prescriptions" for low-income patients who have diabetes. Then, the patients are able to fill those prescriptions on-site at our Food Pharmacies. Deepest thanks to Second Harvest Food Bank for keeping both pharmacies stocked with fresh produce and other healthy foods.
4.8 Million Meals to families, seniors and individuals last year.
Samaritan House Food Services
4031 Pacific Blvd
San Mateo, California 94403
(650) 341-4081 | Map
Hours
M - F 9am - 12pm; 1pm - 4pm (Fri closes 3pm)
To register for Pantry services, talk to your case manager.
Hora
Lunes - viernes de 9am a 12pm; de 1 a 4pm
Cerrado los sábados y domingos
Para registrarse en los servicios de despensa, hable con su administrador de casos.
SAMARITAN HOUSE DINING ROOM
Masonic Lodge 303 Tilton Ave
San Mateo, CA 94401
Map
Hours:
M - F 4pm - 5pm
All welcome.
Hora
Los lunes a viernes, 4pm - 5pm
Todos bienvenidos.
SAMARITAN HOUSE WEEKEND LUNCH TO GO
4031 Pacific Blvd
San Mateo, CA 94403
Map
Hours:
S and Sn 12 noon (lunch to go)
All welcome.
Hora
Los sábados y domingos, 12pm (almuerzo para llevar)
Todos bienvenidos.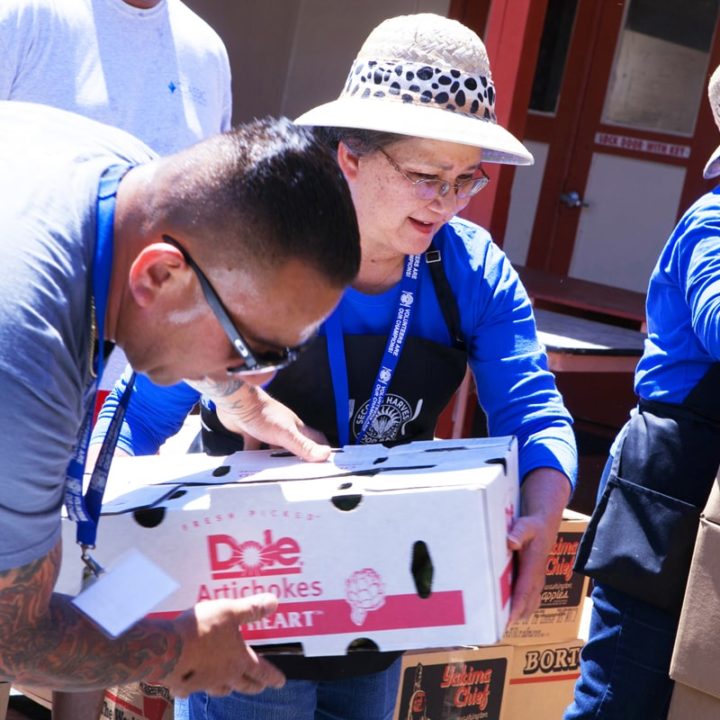 Donate Now
Provide a meal to a family in need
Your gift will help us provide nutritious meals to people in need
GIVE NOW