We are so excited to announce that Laura Bent is the new CEO of Samaritan House! Laura has served as Samaritan House's chief operating officer since 2011, and has more than 20 years of executive leadership experience in the non-profit human services industry. She is replacing Bart Charlow, who announced his retirement in late 2022 after eight years as CEO. Congratulations, Laura!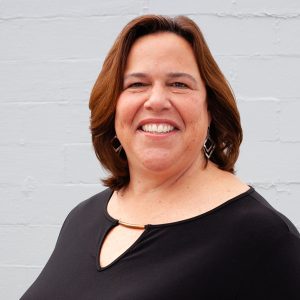 What excites you about this new role?
I am overjoyed to be the new CEO of Samaritan House. We have a talented, dedicated staff that is committed to fighting poverty and lifting lives with the support of our volunteers and donors. Samaritan House has a strong foundation, thanks to Bart's leadership these past eight years, and I think we're well positioned to do more: serve more people, provide more services and provide more hope for the people who come to us for support. I am thrilled to have this opportunity and between staff, volunteers, donors and community partners, Samaritan House will just keep getting better and better.
How do you see the organization evolving?
We have more people coming to us for services than ever before. My vision is to grow the organization and expand the programs and services that we offer to meet the need in San Mateo County. In addition to acute crisis prevention, which is critical, I want Samaritan House to help clients lift themselves out of poverty for the long term by providing deeper services.
What are you most proud of?
I can't narrow that down! I'm proud of the depth and breadth of services that we offer. I'm proud of the strong team that we've built and their dedication to clients and the mission, and how we've been embraced by the community. We have strong support from volunteers and donors, who enable us to deliver the programs and services that are effecting real change in our community.
Is there a client story that stands out to you?
My 13-year-old son plays baseball and several of his teammates' families are clients of Samaritan House. One day when I was dropping him off at practice, one of the moms got out of her car to express her gratitude for the support she had received from Samaritan House. She had initially come to Samaritan House for help with Christmas gifts through our holiday program, but after meeting with the case managers, Samaritan House helped the family with financial assistance to move into a more secure housing situation.
Our case managers provide personalized support and planning for each client to ensure we are helping them address their unique reality. Sometimes our clients are unaware of the wide services we offer, and our case managers help them navigate what is available so that we can provide clients with a more complete and sustainable solution to their struggles. Add this to the list of things that I'm proud of!
What can the community do to help the working poor in San Mateo County?
Get involved – volunteer, donate and spread the word that Samaritan House has all the services a family could need. We're here and ready to help.