The Heart of a Vital Network
For over 40 years, Samaritan House has been serving low-income residents of San Mateo County. We are proud to collaborate with our community in fighting the pressures of poverty. Whether you are new to our page or someone who has worked alongside us for years, we welcome you and invite you to connect with us.
With a broad range of supportive services including food, shelter, healthcare and more, Samaritan House is serving the working poor at eight locations throughout the county. Folks in need can visit us at our headquarters located in San Mateo to sit down with a case manager and design a roadmap for stability and, eventually, self-reliance. Samaritan House South in East Palo Alto and Samaritan House Menlo Park Satellite in Menlo Park likewise offer supportive services to individuals right in the communities where they live.
Follow us on our social media pages or sign up for our monthly e-newsletters in the "Get Updates" box below to see the latest happenings. For general questions, please visit our FAQ page or give us a call at Samaritan House San Mateo at (650) 347-3648. We look forward to hearing from you.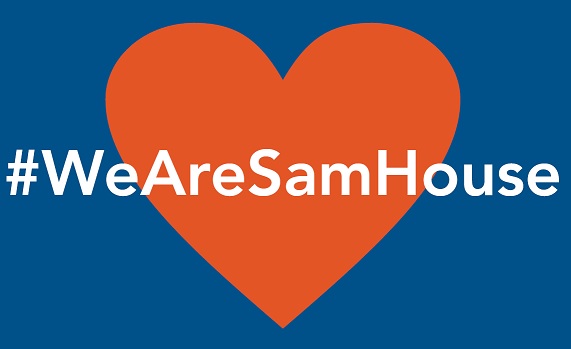 You are, we are, together, the great heart of a great community creating hope and opportunity for our neighbors in need. Post a picture of yourself with the hashtag #WeAreSamHouse on a sign or a caption added to your photo. Whether you are volunteering, donating, teaching, sharing or dancing, stop and take a picture and join the #WeAreSamHouse fun!
Follow us on Social Media :
Facebook @samaritanhouse.smc
Instagram @Samaritan_House
Twitter @Samaritan_House
LinkedIn at Samaritan House of San Mateo County.
Take a photo with a #WeAreSamHouse sign (hand-written is great or you can download and print your own here!), and post to social media with the hashtag #WeAreSamHouse, be sure to tag Samaritan House!