The Heart of a Vital Network
For over 40 years, Samaritan House has been serving low-income residents of San Mateo County. We are proud to collaborate with our community in fighting the pressures of poverty. Whether you are new to our page or someone who has worked alongside us for years, we welcome you and invite you to connect with us.
With a broad range of supportive services including food, shelter, healthcare and more, Samaritan House is serving the working poor at eight locations throughout the county. Folks in need can visit us at our headquarters located in San Mateo to sit down with a case manager and design a roadmap for stability and, eventually, self-reliance. Samaritan House South in East Palo Alto and Samaritan House Menlo Park Satellite in Menlo Park likewise offer supportive services to individuals right in the communities where they live.
Follow us on our social media pages or sign up for our monthly e-newsletters in the "Get Updates" box below to see the latest happenings. For general questions, please visit our FAQ page or give us a call at Samaritan House San Mateo at (650) 347-3648. We look forward to hearing from you.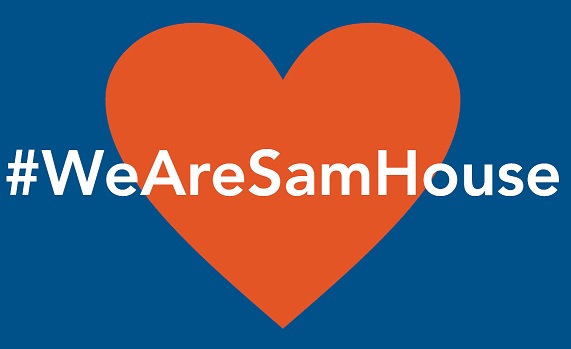 #WeAreSamHouse
You are, we are, together, the great heart of a great community creating hope and opportunity for our neighbors in need. Post a picture of yourself with the hashtag #WeAreSamHouse on a sign or a caption added to your photo. Whether you are volunteering, donating, teaching, sharing or dancing, stop and take a picture and join the #WeAreSamHouse fun!
Follow us on Social Media :
Facebook @samaritanhouse.smc
Instagram @Samaritan_House
Twitter @Samaritan_House
LinkedIn at Samaritan House of San Mateo County.
Take a photo with a #WeAreSamHouse sign (hand-written is great or you can download and print your own here!), and post to social media with the hashtag #WeAreSamHouse, be sure to tag Samaritan House!
Close

Bart Charlow

Chief Executive Officer

Bart Charlow, LMFT has been Chief Executive Officer of Samaritan House since 2014. Bart is a seasoned CEO, who has managed nonprofit, health care and human services organizations, and is a Licensed Family Therapist.

His career spans diverse fields, including business administration, education, research, audio-visual media and information technology.

In 44 years as a Bay Area executive, he has led regional nonprofits: Easter Seals Bay Area, Adult & Child Guidance Center, Silicon Valley FACES, Peninsula Volunteers and Peninsula Volunteer Properties, Big Brothers/Big Sisters, and more. He has also been an Instructor for the Joint Commission, St. Mary's College and Notre Dame de Namur.

Bart has served on numerous boards and commissions and has been awarded for his Interfaith work. He holds an M.A. in Counseling and a B.A. in Anthropology/Sociology from Wake Forest University.

Bart has been widely featured on local TV, radio, and in print. He has been quoted nationally in Newsweek and The Wall Street Journal, and has appeared on the NBC Today Show.

Bart and his wife, Nancy, raised their 3 children in Foster City.

Vice President of Advancement

Close

Jolie Bou

Chief Financial Officer

Jolie Bou leads the Finance/Accounting team at Samaritan House and has been Chief Financial Officer since September 2005. She's passionate about having positive synergy between finance and developments departments. Her responsibilities also include Information Technology and risk management. Prior to joining the Samaritan House team, she was the Executive Director for the Women's Recovery Association in Burlingame and was previously their Director of Finance for 10 years.

Jolie's career began in accounting and her nonprofit work goes back more than 35 years with experience and expertise in wide range of key areas including finance, accounting, strategy, development, human resources and capacity building. In addition, Jolie has participated in several distinct national and local organizational learning collaboratives such as the Robert Wood Johnson Foundation's national collaborative, "Paths to Recovery". These initiatives focused on process improvement, infrastructure capacity, outcomes, and learning from peer organizations.