Samaritan House is Honored with a 2017 Community Partnership Award from Stanford
Originally published on October 11, 2017 by Samaritan House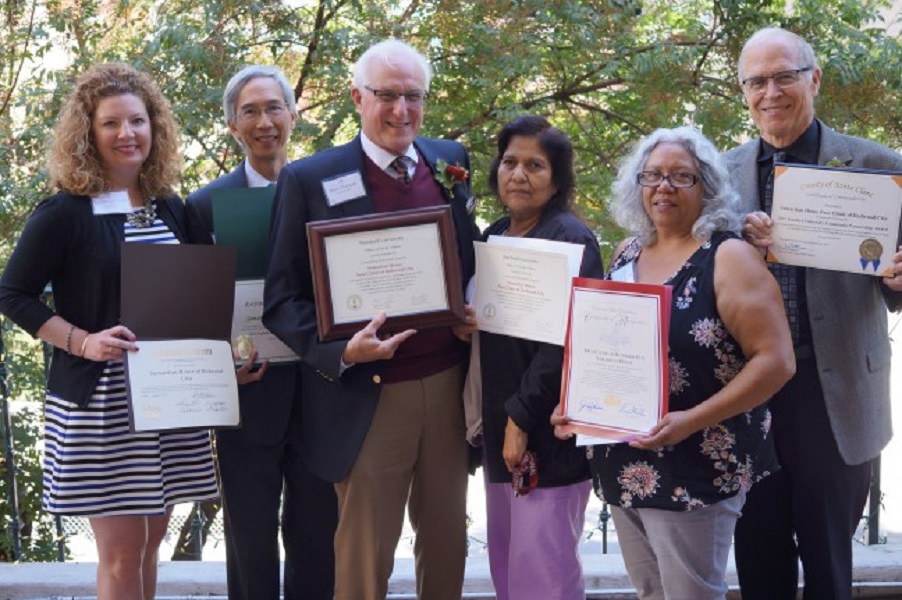 Samaritan House is immensely proud to have been honored with a 2017 Stanford Community Partnership Award for our work at the Samaritan House Free Clinic of Redwood City, headed by Dr. Jason Wong, Medical Director (pictured 2nd from left).
"Dr. Wong and his team have embedded themselves in the medical community, and they find every creative and rewarding way to embed Stanford Health Care personnel in our Clinic. It's a partnership that everyone enjoys, especially our patients, who then benefit from some of very best medical care available," Bart Charlow Samaritan House CEO.
To learn more about the 2017 Stanford Community Partnership honorees, go to:
https://news.stanford.edu/2017/09/22/community-partnership-awards-honor-three-service-programs/
Pictured from left to right: Colleen Haesloop Johnson, MPA/HSA, Stanford Health Care Director of Community Partnerships; Dr. Jason Wong, Samaritan House Medical Director; Bart Charlow, Samaritan House CEO; Elvia Torres, Samaritan House Redwood City Clinic Medical Assistant; Gracie Medina, Samaritan House Redwood City Clinic Manager and Andy Coe, Stanford Health Care Chief Government & Community Relations Officer.