A Near Death Experience and a Medical Miracle
Before Vivien was referred to Samaritan House's San Mateo Free Clinic, she had been told she had 2 weeks left to live. She faced a bleak diagnosis of highly advanced metastatic breast cancer. Her MRI scan was covered in darkness, an indication of the cancer's hold on her body.
I wasn't expecting that I could celebrate my 50th birthday. The doctor was telling me I only had 2 weeks.
Understanding the significance of every second, Dolores, our Clinic's breast care coordinator, arranged for Vivien to meet with Dr. Shubin, one of our volunteer physicians. Vivien came to the clinic on a Thursday, was immediately seen by the doctor on Friday, and started her first round of chemotherapy on that following Monday – Christmas Eve.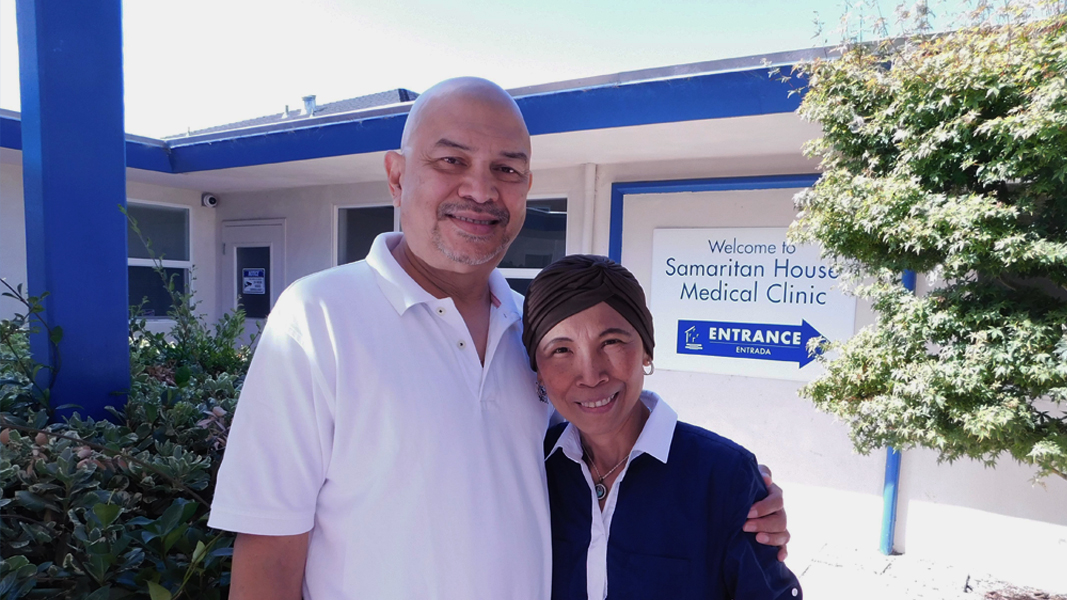 Even as her husband was supporting her during this difficult Christmas, her children received new toys and coats at our Samaritan House Holiday Program.
My family, especially the kids, were so happy for the gifts. It was a remarkable experience of joy and tears, because I was not in good shape at that time.
While the road has been physically and mentally taxing, Vivien has shown vast improvement. Where the MRI image was once completely black a year ago, her scans are now 95% clear. Her resilience and the support of those around her give her strength.
I'm really grateful for Samaritan house. It doesn't matter what situation you are in, you can see everyone's big heart.
If Vivien's story moved you, please consider donating today. Your contributions change lives, just like it changed Vivien's life.
Lift lives today
Your contributions change lives
Your gift means people like Dolores can walk next to individuals and families who fall on hard times.
Give Now